Home
✦ ✦ Unlabelled ✦
Connecting, Downloading & Grounding Divine Light
Posted by: Celestial Light Posted date: 9:25 PM / comment : 0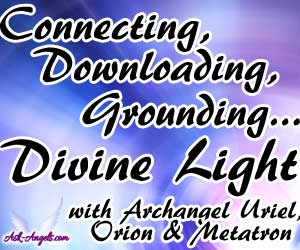 Archangel Metatron, Archangel Uriel, and Orion, will assist you in connecting with programs of Divine Light. You will experience Divine Love, Divine Joy, Divine Forgiveness and experience the grounding each of these blessings into the physical and into your life! This .MP3 channeled angel course is a powerful one for increasing your vibration and aligning with your Divine Purpose.
Orion, Uriel and Archangel Metatron will assist you in to cleansing your body, mind, and spirit and then elevating your energy through connecting directly with Divine Love. You will receive powerful energetic gifts from the divine in each of these three
channeled messages
.
Simply relax, breathe, and focus within as you listen to receive the full benefit.
1. Uniting With Divine Light~ 20 Min .MP3 Angel Message with Archangel Metatron
2. Download Divine Love, Divine Forgiveness & Divine Joy~ 28 Min .MP3 Angel Course with Angelic Guide Orion3. Small Steps Towards Big Dreams ~17 Min .MP3 Angelic Initiation with Archangel Uriel
http://bit.ly/12pP4Kj
About Celestial Light
This is a short description in the author block about the author. You edit it by entering text in the "Biographical Info" field in the user admin panel.
UNITY NETWORK

SMART PLANET